Newest, beautiful, single women now added for week of Tuesday, 1 June, 9723 - Monday, 7 June, 9723
Your opportunities here are truly worldwide. Explore our site deeply to see how you can realize that!
The History of Matchmaking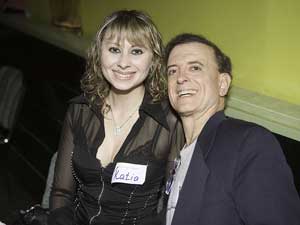 Matchmaking is the practice of pairing up two or more people together. When two people undergo matchmaking, it is usually with the intention of creating a romantic relationship that ends in marriage. Many different cultures have at one point or another practiced matchmaking, especially in line with arranged marriages. In some countries today, it continues to be widely used and preferred by families because of its many benefits.
In order for two people to become matched, a matchmaker or intermediary is needed. This person is responsible with looking for the most ideal man or woman to match with their client, among a list of eligible men and women. After doing so, they are tasked with making introductions to get the two parties acquainted with each other. This is done until such time that both parties are satisfied with the person chosen to be their match.
In the past, the main goal of matchmaking was to improve family connections and businesses. The size and value of the bride's dowry bore great significance and was more important than love or romance. The Jewish communities that can be found in Eastern Europe and Russia have been applying this practice, especially during the Middle Ages. In their region, a matchmaker was called a shad khan and it was considered a highly important position in society.
In Asia, matchmaking was also present in different cultures. Particularly in Japan, they were referred to as a Nakodo, while in China, Nu Gua is considered the goddess or patroness of matchmakers. Meanwhile, matchmaking was also evident in Latin American culture, wherein two separate families would look for suitable partners for their son or daughter. Different factors were considered when seeking the most ideal partner. This included their financial status, their position or rank in society, and how their marriage can benefit the family and their businesses overall.
Due to this, matchmaking was viewed more as a transaction that had benefits, instead of finding love with the person you are matched with. However as the years went by, the popularity of dating apps and matchmaker companies have changed people's opinions on matchmaking and its purpose. Nowadays, you can easily match up with someone through dating apps installed on your phone, or by enlisting matchmaker companies instead.
When it comes to the latter, A New Wife is considered the best foreign marriage agency and matchmaking services today. Hundreds of beautiful foreign women and eligible men have signed up on the site in the hopes of finding their one true love for marriage. If you are seeking an ideal partner through matchmaking, A New Wife is the perfect platform for you. By signing up on the site, you will surely find a new wife to spend the rest of your life with.
International Matchmaking - How It Has Helped Men and Women Find True Love
Despite the history and original purpose of matchmaking, men and women that undergo the process are now doing so for different reasons. Nowadays, the main goal of any professional matchmaker is to help men and women of different backgrounds to connect and find love. Instead of focusing on monetary gain or positions in society, the focus is now placed on romance and the compatibility of the couple.
Matchmaking is now more popular than ever, especially with the younger generations making use of online dating sites and apps. While this has made it easier for single foreign women seeking men for marriage and vice versa to find each other, other alternatives have been proven more effective in finding that special someone. Foreign matchmaker companies are seen as the better solution because they provide more benefits and options than the ordinary dating app or website.
In A New Wife for example, clients are able to avail of many advantages and options, especially when it comes to the women they communicate with and eventually meet. The great thing about using the best foreign marriage agency in the industry today, is having professional matchmakers find the most ideal partner for you, among the hundreds of single foreign women who have registered on the site.
Not only that, all the meetups are secure and convenient too. A New Wife has acclaimed singles tours, wherein men and women can meet each other for long-term relationships and marriage within a safe and comfortable environment. Nowadays, most dating sites and apps are only able to introduce you to women's profiles, but are unable to assist you completely for the entire process; from the introductions to the actual meetups.
Thanks to the services provided by companies like A New Wife, hundreds of men and women have found each other for romance and a lifetime of love. If you are interested in finding a new wife to settle down with, take the first step and register for free on our website today. Upon doing so, you get to view the profiles of hundreds of beautiful ladies on the site, who are all interested in settling down with foreign men like you.
To learn more about A New Wife dating culture and our services, simply browse through the site.
Newest, beautiful, single women now added for week of Tuesday, 1 June, 9723 - Monday, 7 June, 9723
You have to meet the women to marry them! What other international dating site offers you numerous opportunities to do that?